File Storage Privacy
Does Markdown Journal ever store your files on the server?
No. The files are not held on the server.
Your files are stored in your Dropbox account. They are temporarily downloaded to the server for the purpose of appending new entry to the file. Once the new entry is added, and the file is sent back to Dropbox it is deleted immediately.
The temp file creation is accomplished using the Ruby Tempfile class. We encourage you to read up on the way it is implemented and use that knowledge to decide whether this temporary form of storage is up to your requirements.
Markdown Journal does not log or store your entries. The application code also does not track your usage in any way, shape or form. Please note however that your usage is logged by the server for maintenance and security purposes. These logs are never shared with any third party and are only used internally for the purpose of security audits and usage metrics.
Check for Yourself
Why should you trust Markdown Journal with your personal diary? You shouldn't. As a rule of thumb you should never fully trust any online service with your data. You shouldn't even trust Dropbox.
But in case of Markdown Journal you can actually verify it is not doing anything shady by reading the code: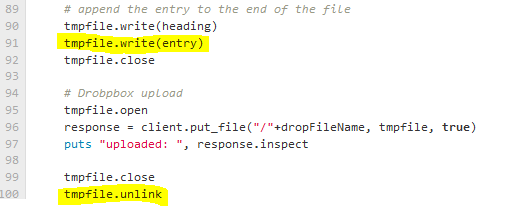 As you can see, the temp file is deleted seconds after it is written to the disk.